I hadn't planned on posting another pregnancy update until Thursday, when I will be 39 weeks. Well, as it turns out, I will be having a baby either on or before Thursday. Yes. This Thursday… As in 4 days away. WHATTTTT!!!!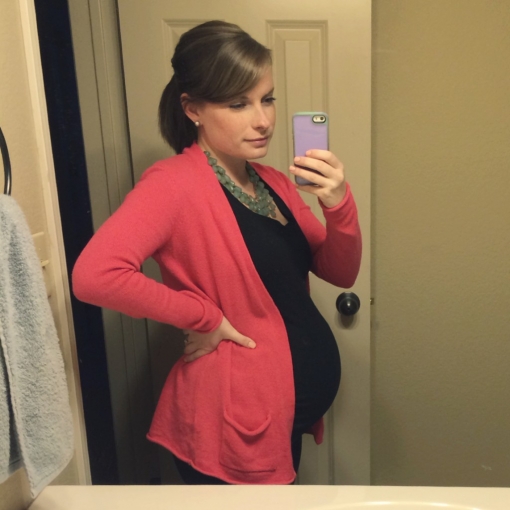 At my weekly appointment last Tuesday, my doctor ordered a body scan of Archer because my belly was measuring a few weeks behind for the second appointment in a row. During the ultrasound, we got to see our sweet baby's face, toes (which he had up around his face… comfy), fingers, and what looked like a giant head. Maybe it looked so giant because all I could think was, "Uh… How exactly is that going to come out of me?!" Insert very exaggerated crying face here. We're so thankful that the ultrasound tech had nothing but good news to report to us while checking out everything. Turns out, we just have a really tiny guy cooking in there… The body scan estimated around 5lbs 4oz. Specifically, his abdomen is measuring 3 weeks behind average measurements, which our doctor is almost sure is just because of his small size. There's a chance it could be related to a lack of nutrition, but of course, there's no way to know for sure. To err on the side of caution, my doctor has decided to induce me on Thursday so that we can start plumping him up outside of the womb. After all of this went down last week, I had a few days where I was feeling a little uneasy and nervous. Thankfully, we were able to sit down again with my doctor to get a better explanation of everything… He answered A LOT of questions (crazy pregnant lady here) and really reassured us that he's doing what he feels is best for Archer and I. We've had such a good experience working with him (in spite of a few quirks here and there) over the last 8 months and totally trust his decision making in this area. It definitely helps that he has more years of experience than Aaron and I have been alive.
So yeah… Archer Daniel will be here (God-willing) on Thursday. Again, WHATTTTTTT!!! It is so crazy to have an end in sight after waiting for what seems like an eternity. My to-do list is about a mile long, I don't know how I'm going to sleep a wink in the next 4 days, but at the end of the week, we'll be holding our little boy! God is so good. Thanks to everyone who has been so encouraging over the last 9 months… We covet your prayers as we head into this week!