Besides my education, my favorite thing about my time at Liberty is the people that I met there. One of those people is Kayla, or Kays, or "love monkey" (it's a long story… don't ask). I met Kayla my first day at Liberty because she lived across the hall and one door to the left from me. We quickly bonded over our New Testament class with Dr. Love through our use of RIDICULOUS hand-motions to memorize themes for each NT book. Yeah, we were super cool.
I remember the day she told me about a guy back home that she liked and had been praying for for years. In March 2008 of that same school year, Kayla & Ben began dating. The next fall I had my very first, official, but unpaid photoshoot. I can't remember if I asked them if I could take some pictures or if they asked me. Either way, this was one of the very first pictures I remember being proud of… One that inspired me to take more.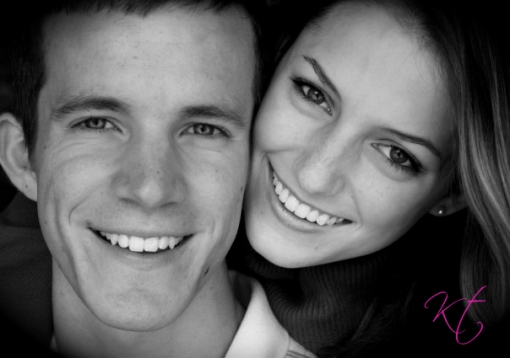 No, your eyes are not fooling you. That is the font 'scriptina' in hot pink. Yes, I am ashamed. And you're probably thinking, "What is so great about that picture?" Well, for a girl who had just gotten a DSLR and had only messed around with it in the dorm prior to this, I thought I did pretty good. And I dubbed this picture the "Crest Whitestrips" picture. In July 2009, Kayla & Ben, or "Bayla", got engaged and set a date for January 9, 2010. That fall, I got to shoot their engagement session…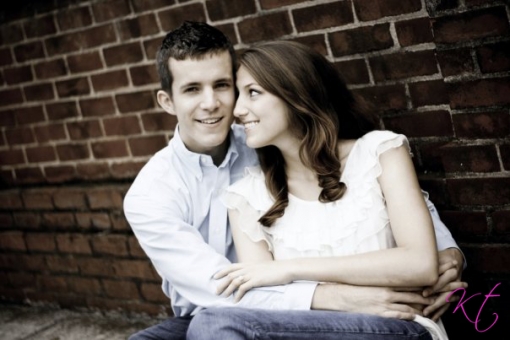 Yep, there's that horrid "logo" again. Bayla, ya'll have been and will always be beautiful, but I think its safe to say that the world can rejoice knowing that my editing style, or lack thereof, has completely changed.
Well, the exciting news is that Kayla and Ben are expecting their first little baby any day now. (Kays is obviously hoping sooner than later.) I know that baby Levi is going to be one of the most loved little boys on the face of the planet, and I have no doubt that Ben and Kayla will be incredible parents… They are truly some of the godliest people I know. I am so glad that I was able to capture some pictures of Kayla while she was carrying little Levi, and I really can't wait to snap some pictures of the little love monkey when he makes his grand entrance to the world. :)
Kayla is one of those people who doesn't look pregnant from the back… I realize that I can't really relate, but I think its safe that my future self would scream "NOT FAIR!" Seriously… She's a stunner and a half.
Preggo model, huh?
Baby Leves hangin' with some leaves. You know that was funny, internet.
Ben joined us about half-way through. These people are so in love with each other that its just ridiculous… In a precious kind of way. :)
One hott baby mama. ;)
Just one of the many reasons I love them. Remember "Crest Whitestrips"? I call this "Flying Squirrel".
fav.
Hey there, little Levi. :)


Can't wait to meet you baby Levi. You are one lucky kid to be born into such an amazing family. :)