In the last year or so, I have had SO many people approach me and say, "I wish you had taken my wedding photos!" I've never felt more conceited in my life than when typing that sentence. I promise I don't share that to make myself look like the world's greatest wedding photographer because I am CERTAINLY not. Sure, it's very encouraging to hear that, but I hate hearing stories of couples who had a bad experience with their wedding photographer. Because your wedding photos are the only material thing that will last past the wedding day, you should be IN LOVE with them! Sadly, this is not always the case, so today I'll be sharing my 10 tips for picking the perfect wedding photographer!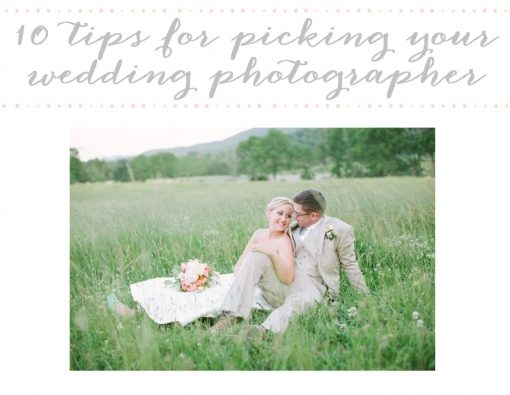 1. Pick a photographer who you "click" with! You're going to be followed by this person for your entire wedding day, so you definitely want someone you, your family, and your wedding party will get along with! If you have more of a serious personality, you shouldn't hire the photographer who's going to be cracking corny jokes all day.
2. Ask to see their complete portfolio. Many photographers will only post pictures of their bride & groom portraits. While these might be great, what do their pictures of the ceremony, reception, getting ready time, etc., look like?
3. Don't feel like you HAVE to pick a photographer who lives in the city where your wedding will be. Most photographers will (and love) to travel. Just be prepared to cover their travel expenses.
4. Pick a photographer who has a similar style to yours & your wedding. This one is probably a no-brainer. If you & your fiancé are the type of couple who love quirkiness and a little oddity, you probably shouldn't book a photographer whose portfolio only features serious faces. On the contrary, if you want your wedding photos to look like they could be in the pages of Vogue, you should pick a photographer who's style is very editorial.
5. Discuss your expectations before you pick a photographer. If you're expecting your wedding photos to be ready to be delivered to you within 2 weeks (not super realistic), make sure you book a photographer who works on such a quick timeline.
6. Carefully read over the contract. If you can't wait to post your wedding photos on Facebook but never realized that your photographer's contract prohibits you from doing so, you'll end up being really disappointed.
7. Ask them why they are a wedding photographer! You should hire someone who LOVES their job (this should be true of all your vendors), and you can usually tell a lot by their answer to this question.
8. Make sure the photographer you pick will be able to offer you & your fiancé an engagement session. I've talked about this before, but engagement sessions are such a great way for you to get to know your photographer before the wedding day!
9. Ask them about their editing process. You should usually be able to figure this out by looking through their portfolio, but what do their finished photos look like? If you want clean and real looking photos, make sure you don't book a photographer who airbrushes every face in their photos.
10. Reconsider your budget. No, I'm not telling you to throw your budget out the window, but the fact is that great wedding photographers are expensive. The saying "You get what you pay for" has never been truer than with wedding photography. If the wedding photographer that you & your fiancé have fallen in love with is $1000 out of your budget, consider moving some money around. Sure, that might mean giving up those Kate Spade shoes that you'd been drooling over, but after everything is over, you'll care more about beautiful pictures than the shoes you wore that day.
Happy Wednesday!