So. The First Look. It's an opportunity for the bride & groom to see each other before the ceremony, and it is arguably the biggest photography-related decision that I hear brides wrestling over. And guess what? I TOTALLY get it. Every little girl dreams about that moment where her groom will see her for the first time… Usually at the end of an aisle. How could I even think of asking one of my brides to ruin that moment? Well, I can finally say this from personal experience… A First Look could never ruin anything.
Aaron & I chose to do a First Look for a number of reasons…
We wanted to have a moment of time together ALONE. Face it: If you're getting married, from the moment your ceremony begins to leaving the reception, you'll be able to exchange approximately 3.9 sentences (cause you WILL be interrupted). And for good reason… Friends & family have traveled from all over to see you get married! They want to say congratulations, give you a hug, and compliment your rockin' new bling! By seeing each other before the ceremony, I got to tell Aaron about how my dress almost didn't zip, show him my insane shoes that I had been hiding for five months, and tell him how handsome he looked BEFORE 200 people were surrounding us.
Pictures were very important to us, obviously. By choosing to see each other before the ceremony, we were able to get a ton of pictures of us, plus all the bridal party, and immediate family pictures done. This was not only a huge stress-relief for our photographer, but it helped relax us SO MUCH. I didn't feel any need to be checking the time to make sure we didn't need to be heading to the reception. After the ceremony, we only had a few pictures with our extended families, and then a lot more time for just Aaron & I. Cause really… There can never be too many pictures of the bride & groom. :) We didn't feel like we were inconveniencing or holding anyone up because we knew our guests were busy chowing down on the mashed potato bar!
As a bride, the best part about doing a First Look was NOT that Aaron & I got alone time and stress-free day, but those were major perks. The best part about our first look was that it didn't, in any way, ruin that moment where my parents walked me down the aisle, surrounded by our friends any family. I have never experienced that feeling or that many butterflies in my stomach, and I know I'll never feel it again. And guess what? We both cried. Actually, Aaron cried. I sobbed. Ugly sobs. Very, very ugly sobs. You laugh, but I'm serious. But those sobs and butterflies were only a testament to the fact that nothing can ruin or take away from that moment.
Honestly, if I could wave a magic wand, I would have all my couples do a First Look, but hear me: I will never get angry at a couple that decides against doing one. Your wedding is about you & your fiancé and what will make you happy, and I am all about keeping the happiness flowing! :)
And here's a couple images from Aaron & I's first look: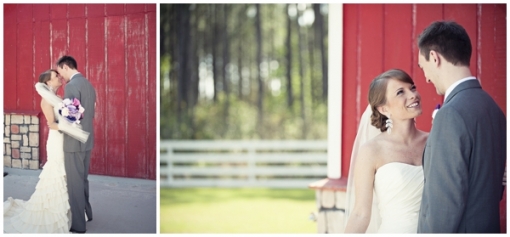 photo by Julie Cate Photography