I am a huge fan of the sitcom Friends. I've seen every episode at least 8 times, I've had "the Rachel" haircut, and I frequently forget that the cast aren't actually real people. One of my favorite episodes is "The One Where Ross Hugs Rachel", when Monica tells Rachel that she has to move out because Chandler is moving in. The reason I believe I have connected so much with this episode is because of a scene where Rachel & Monica are crying together on their couch because, "It's the end of an era!" Since seeing this episode well over eight years ago, I have dramatically channeled my inner Rachel & Monica on numerous occasions… Totaling my first car, little Lucy, and seeing her crumbled self towed off to the car graveyard? "It's the end of an era!!" Getting ready to leave home to attend a college more that 600 miles away? "It's the end of an era!!" Saying "yes" and promising to live with a boy half way across the world?? That may be a bit dramatic. "It's the end of an era!!"
Many times in the past, these endings have totally snuck up on me & left me feeling totally unprepared for the next era. So I decided to make a list. I loveeee lists. A bucket list of sorts… As of today, December 6, 2011, I only have 101 days left until I enter a life of pure marital bliss, and there are about a million things I want to accomplish before then. Okay. Maybe not a million but a lot. 101 to be exact. I realize that a to do list of this magnitude is quite daunting, and I also realize that there's a good chance, no, a GREAT chance that the list will not be accomplished. All I'm promising myself is that I will do my best to make the most of the next three-ish months.
I decided it would be a good idea to blog (in random order) my 101 in 101 for a multitude of reasons: #1 – Accountability. #2 – I think it'll be fun to document my progress & look back over everything once its over. #3 – To completely overwhelm myself. #4 – To show you, internet, that I am a weirdo, yet again.
Before you begin reading, please understand that many of these tasks beg an explanation. Like serious begging, people. But based on the fact that this is already the longest blog post of all time, I decided against explanations, with the hope that someone would make it to the very end. Thanks, Mom! So all I would ask is that you please don't judge me. :)
Spend one hour every morning "unplugged".
Do two Pinterest-inspired projects a week.
Blog about said projects.
Go bowling at Latitude 30.
Blog at least 3 times a week (but hopefully more).
Plan & pay for an awesome date to send the 'rents on.
Put together a new sample album.
Make a TON of paper details for the wedding.
Have a Mario Kart/Mario Party day with the brothers (N64… the only way to go).
Send equipment to Canon for cleaning.
Start wearing my glasses that I should be wearing daily.
Visit Fort Lauderdale.
Visit Atlanta.
Make a pie from scratch, crust and all.
Run 2 miles in 20 minutes.
Do a serious overhaul of my closet.
Clean out all the toiletries I've been collecting for the last 9 years.
Work through Mille Holloman's Get it Together kit.
Get all marketing products reordered with new logo.
Spend a day with my St. Augustine grandparents playing games.
Figure out a better workflow that doesn't make me want to jump off a boat.
Be less dramatic (see previous goal).
Create email templates and use them.
Start blogging before and afters weekly.
Take 1 bike ride with mom a week.
Let dad teach me a few recipes without having a meltdown.
Add more RAM to little MacKenzie (my MacBook).
Keep my fingernails painted and pretty.
Memorize Ephesians 1.
Hand make at least one Christmas gift for each of my immediate family members.
Get engagement ring insured.
Use mouthwash everyday.
Keep a candle lit while I'm working at my desk.
Start "One Line a Day" memory book on January 1st, and be consistent!
Drink 48 oz. of water every day.
Find night stands for the Arkansas bedroom.
Learn how to cut my own bangs.
Develop a more organized filing system.
Organize computer files.
Blog the Best of 2011.
Find Senior Reps in Arkansas.
Save for a buy a new point & shoot (and destroy the crappy one I have now).
Finish reading "This Momentary Marriage", by John Piper.
Read "His Needs, Her Needs", by Harley.
Read "When Sinners Say 'I Do'", by Harvey.
Read "What Did You Expect", by Tripp.
Achieve Gold Star status with Starbucks.
Create a month-to-month blog calendar.
Style & shoot a fun, willing-to-do-anything, couple.
Substitute teach at least 3x's a week.
Get back on track using MyFitnessPal on a daily basis.
Wear heels at least once a week.
Finish refinishing end tables for Arkansas apartment.
Repaint Arkansas living room so it doesn't look horrifically streaky.
Play Xbox Kinect with Mom once a week.
Go to bed earlier.
Respond to emails within 24 hours.
Keep all wedding/apartment stuff super organized.
Clean out that dang junk drawer.
Look into off-camera lighting for receptions.
Find a pair of black pants for shooting.
Clean out underneath bed.
Write a contract with myself promising to never be a hoarder.
Find an awesome lap desk.
Learn the very basics of sewing.
Have CamiCakes at least once every 3 weeks.
Take good pictures of Mom & Dad.
Have a sleepover with my senior high girls.
Be more decisive.
Host a Happy 2012 party.
Teach Palynn to shake.
Have a 4th and final best friends shoot with Stephanie & Danielle.
Make dinner once a week for the family.
Get Easel for my Facebook Photography Page.
Create a slideshow for rehearsal dinner with pictures of me & Aaron growing up & then together.
Find an awesome wedding present for Aaron.
Start using iCal again.
Go to a murder mystery dinner with Amy.
Get rid of anything "dormy".
Build real-life inspiration boards… Not just on Pinterest.
Paint a rug with chevron design for the Arkansas living room.
Get engagement pictures made into canvases.
Find a fabulous, white, sequin dress for rehearsal dinner.
Get Pinterest/Etsy prints printed.
Have a Random Acts of Kindness day.
See a movie at the San Marco Theatre.
Sell piano.
Go to the Alhambra.
Write my wedding vows to Aaron.
Paint headboard for Arkansas bedroom.
Begin saving for WPPI 2013.
Finish reading Exposed & make a list of 10 takeaways that I am going to practice.
Avoid all caloric drinks like the plague (except for coffee… obvi).
Develop a system to build better vendor relationships.
Stop comparing myself to other photographers.
Contribute to Christmas morning breakfast.
Find someone in Arkansas that I can outsource wedding editing.
Write thank yous to 2011 clients.
Hem the skirts & dresses that I've been meaning to hem for 3 years.
Find Aaron the world's most amazing Christmas ornament.
GET MARRIED!!!
Feel free to send me some encouragement to get my butt moving on these things. I have a feeling I'm going to need it. :)
And because a blog post is naked without a picture, here's one from me & Aaron's engagement shoot with Kaity Whitman of The Photo Love. She's located in Northwest Arkansas and is flippin' PHENOM!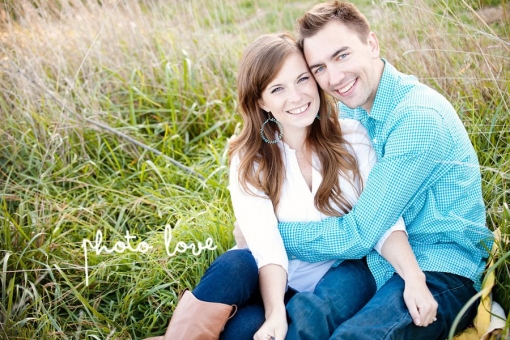 I just love that handsome face so much. :)
Happy Tuesday!